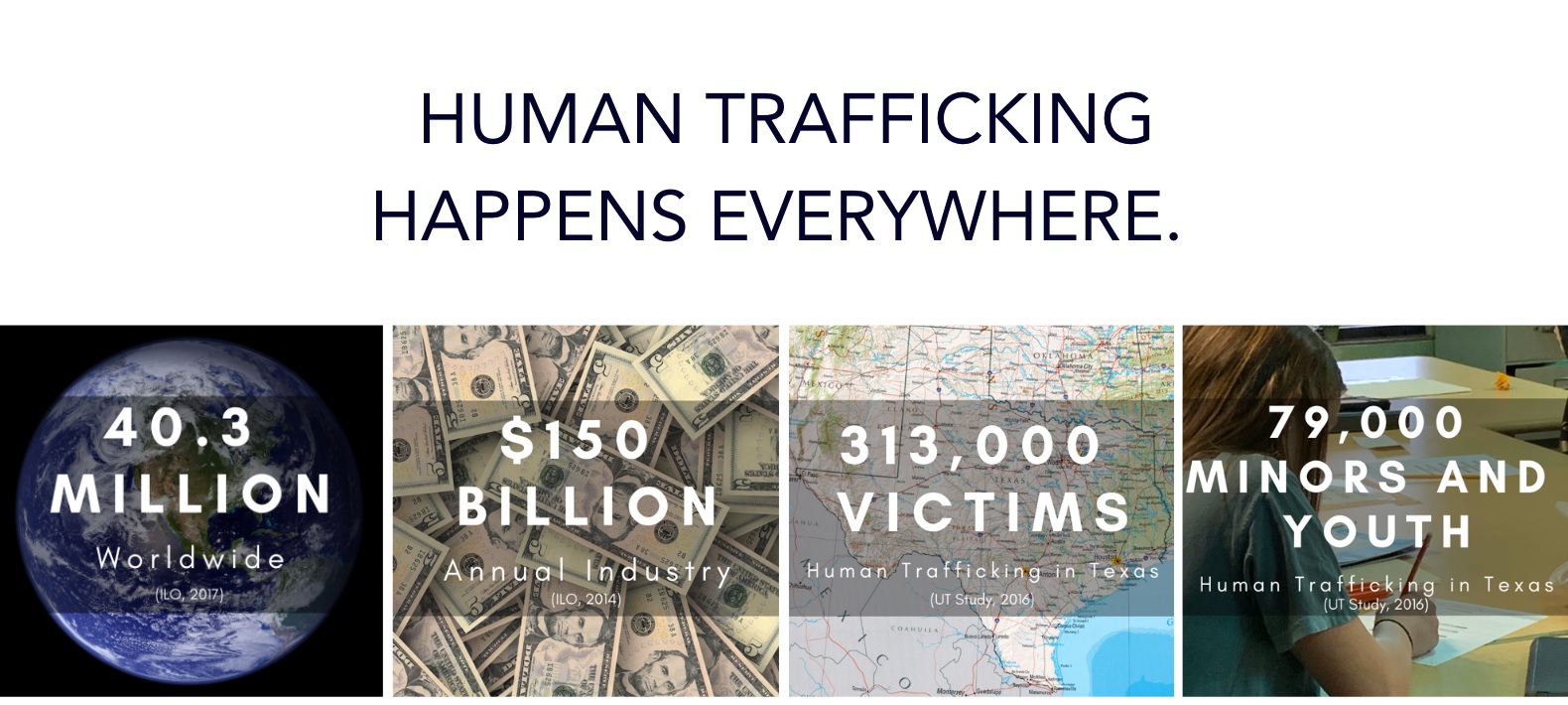 What is Human Trafficking?
Federal law defines human trafficking as the recruitment, harboring, transportation, provision, obtaining, (and in the case of sex trafficking, patronizing, soliciting, or advertising) of a person through the use of force, fraud, or coercion for the purpose of commercial sexual exploitation or subjection to involuntary servitude, peonage, debt bondage, or slavery. Simply put, human trafficking happens when a person is forced or manipulated into providing labor or sexual service for someone else's financial gain. There is no such thing as child prostitution. Anytime a minor (age 17 and under) is involved in the commercial sex industry, it is human trafficking.
Illustration of the elements of human trafficking:
Youth and Minor Sex Trafficking
UnBound Fort Worth advocates work with kids who have been trafficked by their parents in exchange for meth, by gangs as a form of revenue, by pimps on the street, and sometimes simply by buyers with no third party traffickers involved. All of that falls under the legal definition of sex trafficking. These kids are in our schools, and they are coming into our hospitals - child sex trafficking is hiding in plain sight. A Thorn survey found that most kids were enrolled and participating in school when they were being trafficked, at least initially.
Why don't they ask for help?
Traffickers target vulnerable individuals. Some victims have no relational network or support system to note their absence, making them easy targets for trafficking. Common vulnerabilities include lack of legal documentation, limited economic opportunity, low levels of formal education, homelessness, history of abuse, involvement in the commercial sex industry, and substance abuse. For child sex trafficking, other common vulnerabilities include low self-esteem, familial strife, running away, and involvement in child welfare.

Many who have been forced into the commercial sex industry do not self-identify as victims. Traffickers manipulate and lie, making it difficult for victims to reach out for help. Fear of retaliation and lack of awareness prevent a victim from seeking rescue.
While this is certainly not the case for all survivors, many of these kids have never known anything in their short lives but trauma. This is called complex trauma, and it means there is no "normal" to go back to - mentally, emotionally, or psychologically. It would not be atypical for one of these kids being commercially sexually exploited to have known trauma - sexual/physical/emotional abuse or neglect - from the earliest days of their life.
A history of abuse/neglect sets a child up for trafficking and exploitation. There are people who prey on these vulnerabilities. If a child needs a place to stay or a meal, they provide that; if they are desperate for affection, they offer "love", which turns out to be anything but. If they are looking for a sense of belonging, they offer "family". That's why traffickers are called "Daddy". It's an evil perversion of the love and affection these children deserve.
These kids are drawn in, then are they shamed to the depths of their beings. They pick up a criminal record and substance abuse issues, and the last thing they are going to do is reach out for help.
That's where our community can step in. We recognize that with support, these brave individuals have the potential to overcome past trauma and achieve the lives of freedom and hope they deserve.
What does human trafficking look like in Texas?
Check out these links to read more about what human trafficking looks like in Texas.
Why does human trafficking happen?
Trafficking is a supply and demand business. Supporting the commercial sex industry, whether by viewing pornography or purchasing sex, creates profit for traffickers. End the demand, and we end trafficking.
Want to learn more? Check out the resources below.